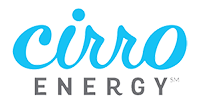 Cirro Energy Resources
Cirro Energy provides energy to over 150000 customers in Texas, and has expanded to offer electricity plans in New York and Pennsylvania.
---
Most Recent Cirro Energy Reviews
Cirro Energy
Easy to sign up, accepted my CC for billing and not one problem so far.

— Mike from Baytown TX
Best Rate
I've been with them for a year and just signed up for a second year best rates around. My bill has never been lower.

— D.Tucker from Philadelphia PA
Great Company
After my twelve months were up rates had dropped for our area, and instead of just switching after having done my homework, I called them and attempted to negotiate a reasonable fixed rate to stay w/them another year. They were great.

— Renew w/them from Mc Elhattan PA
4-5 Star Reviews: 33 (16%)
Cirro Energy
Easy to sign up, accepted my CC for billing and not one problem so far.
3-4 Star Reviews: 12 (6%)
They Are Much Improved
Had a bad start w/their independent vetting agency on sign up, and they are aware, however if your a responsible payer (no excuses for not watching your finances) they have been great to both my neighbor and myself. They came through on a difficult circumstance where my neighbor was scammed by Smart Energy, while she was a contracted Cirro customer, and they came through w/flying colors. She is still w/Cirro now.
2-3 Star Reviews: 19 (9%)
Completely and utterly Aggravating
My account is on auto-pay and they debit my account. whenever they feel like it, but usually, at the end of the month. I recently had to change my bank card and when I go online to change the card info. it won't let me. I called several times and nobody ever picks up. I must be the only person in the world whose email starts with a number because it highlights my email and I can't get in. Cirro doesn't even have an app to download. How archaic is that? So, one of their geniuses emailed me 23 times on the 9th because apparently they want to debit my account on the 10th, and, of course, that didn't go through. Talk about being pissed off. I might just have to change providers bc of this. Too bad. SO SAD. UNBELIEVABLE!! What a nightmare.
1-2 Star Reviews: 105 (51%)
Avoid!
My company had done business with Cirro Energy for several years. My contract expired and my rate more than tripled. No warning, no phone call, no email, they just raised the rate costing me thousands. I have contacted them twice to try and resolve the issue and both times I got too bad, you should have known when your contract expired. They are vultures and it was during a time that our business had been shut down due to Covid. AVOID doing business with Cirro at all costs!
Cirro Energy News
No applicable blogs have been written

Cirro Energy FAQs
Where can I order Cirro Energy electricity?
---
Cirro Energy has electricity plans in Texas
Where can I order Cirro Energy natural gas?
---
Cirro Energy does not have any natural gas plans
What do customers think about Cirro Energy?
---
That depends on who you ask. There will always be someone who feels wronged by a company, no matter how good they actually are. The average Cirro Energy customer review is 2 / 5 stars. Keep in mind, consumers will go out of their way to complain far more often than they will to give praise.
Recommended Natural Gas Plans