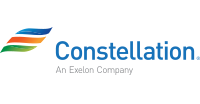 Constellation Resources
Constellation Energy is one of the largest conglomerates in North America. They operate over 35 power plants in 11 states and are one of the leading competitive suppliers of electricity and natural gas, as well as Baltimore Gas & Electric, their regulated utility in central Maryland.
In 2012 Constellation was purchased by Exelon, which has business activities in 47 different states. Exelon is the largest competitive power generator in the United States and is the second largest electricity and natural gas supplier in America.
---
Most Recent Constellation Reviews
Great Customer Service
Constellation provides competitive pricing and excellent customer service. I am staying with them because of that.

— Lolo from Cleveland OH
Great value
Looked online ,Constellation great value and chose 3 yr guaranteed price

— Search ended here from Telford PA
All good so far!
So far, so good!

— Kevin Kordelski from
4-5 Star Reviews: 449 (53%)