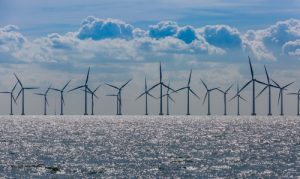 USA's Largest Wind Farm – 15 Miles From Atlantic City
New Jersey has made great progress in clean energy production. The Garden State is already living up to its name with some of the best solar energy records in the US. In June, the New Jersey Board of Public Utilities (NJBPU) agreed unanimously to allow construction of a new off shore wind farm. The winning project, from Danish firm Ørsted, was backed by PSE&G, and the new wind turbine development will be named "Ocean Wind".
Wind Turbines Off NJ Coast?
New Jersey's Governor, Phil Murphy, has committed the state to creating 3,500 MW of offshore wind generation capacity by 2030. This first round of wind turbines will create 1,100 MW when completed, and are projected to begin producing electricity for New Jersey customers in 2024. Two further installation rounds of turbines, at 1,200 MW each, will begin producing electricity in 2020 and 2022.
Investing in these turbines is potentially a smart move for the state's future. When completed, the wind farm will have an electricity production capacity rivaling the country's largest nuclear power stations. USA offshore wind farms are still new; they face a combination of higher installation and transmission costs that make onshore plants much more attractive. Now, however, states like New York are looking to start production. New Jersey is well-placed to secure a competitive place in a burgeoning market – the market for green New Jersey energy looks set to expand in the future. 
How Will These Offshore Wind Farms Affect New Jersey?
The NJBPU mentions several key benefits. Firstly, wind energy companies will employ tens of thousands of New Jersey residents for the 20-year project. This doesn't just include rig workers and other specialists; many crucial ports such as Paulsboro are anticipating investment boosts as the project gets under way. Renewable energy companies are betting that this project will renew interest in other large capacity off shore wind projects.
Because wind energy has no fuel costs, New Jersey electricity rates may fall over the long haul. Unfortunately, developing this first stage of the wind turbine project alone will cost $1.6 billion. New Jersey ratepayers will fund this with an $18 increase in annual bills. This may frustrate many New Jersey residents who have just been forced to bail out PSE&G to the tune of $300 million (or about $41 annually). Even residents who agree with Governor Murphy's plans may cringe at this additional charge to their monthly bills. 
Keep Your Rates Low
The power from these new wind turbines should be enough to power half a million homes across the Garden State. Until then, New Jersey energy is still some of the most expensive electricity in the US, and it's essential to find a cheap rate. Compare cheap NJ electricity rates in your area today to find ways to keep costs low.