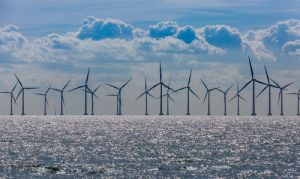 Low Cost Green Energy Deals For Newark Residents
The Garden State is going green. At the start of 2020, Governor Phil Murphy unveiled New Jersey's "Energy Master Plan", which includes a vision of an all-renewable state by 2050. Although New Jersey is currently ranked 40th in the "greenest state" index, this is set to change. With the upcoming construction of the largest offshore wind farm in the US, New Jersey residents will soon find that almost all of their electricity is renewable. Until then, though, what's the best price on renewable energy in Newark?
100% Renewable Energy Deals In Newark
If you're looking to pick up a plan that gives you totally renewable energy, there are several options to pick from. The only option that allows you to use electricity directly from renewable sources is the Constellation 12 Month Green Home Power Plan. This has a rate of 14.39 cents per kWh. This comes entirely from wind energy, making it a great choice for New Jersey residents who want sustainable electricity.
Other Cheap Renewable Energy Deals
Alternatively, you could pick the Verde Energy Clean Power 12 Plan, with a price per kWh of 13.49 cents. This plan uses electricity from traditional power sources such as coal and natural gas. However, Verde Energy offsets this usage by purchasing Renewable Energy Certificates (RECs). These encourage the production of renewable energy by paying green providers to produce electricity for the grid. You could also opt for the Tomorrow Energy 12 Month Fixed deal. This is a very cheap plan, at 12.94 cents per kWh. Both plans use RECs to replace 100% of your electricity usage with renewable supplies.
The final renewable energy choice for Newark residents is the XOOM Simple Clean 12 Month deal. This plan uses RECs to offset 50% of the power it sells, and comes at a price of 14.49 cents per kWh.
Finding The Best Green Deal For You
So, which plan is the best option for Newark residents? To help you pick out the cheapest deal on New Jersey green power, we'll take a look at how much a typical household might spend. According to information from the Energy Information Administration (EIA), New Jersey residents can expect to use something like 9,000 kWh per year. You might use more than this, or less, but it's a useful starting point. Here's how these renewable plans look for a standard New Jersey household:
| | | | |
| --- | --- | --- | --- |
| Plan | Cents Per kWh | Cost For 9,000 kWh | Green? |
| Tomorrow Energy 12 | 12.94 | $1,164 | 100% RECs |
| Verde Clean Power 12 | 13.49 | $1,214 | 100% RECs |
| Constellation 12 Month Green | 14.39 | $1,295 | 100% Wind |
| XOOM Simple Clean | 14.49 | $1,304 | 50% RECs |
Of course, price isn't the only consideration. While the Tomorrow Energy plan is the cheapest overall, you won't be using energy generated directly from renewable sources. RECs are a widely-accepted way to offset fossil fuel usage, but you might prefer a fully-renewable source instead.
In addition, we recommend that you take a look at real customer reviews of New Jersey electricity providers. You'll want an electricity provider that will take care of your needs, provides good customer service, reliable billing, and so on. When you've made your choice, it couldn't be easier to sign up with a new electricity provider. Our service makes it quick and easy to switch electricity suppliers in New Jersey. So what are you waiting for? Start saving today!