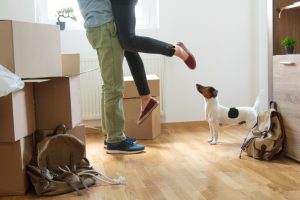 House Moving in NJ – Our Top Tips
So you've found a great new home for you and your loved ones…Fantastic! But now you've got to get there. And boy is it a daunting prospect, especially with Covid still tamping down on movement and logistics. Well, never fear, because NJ Energy Ratings is here once more to save you time, hassle, and cash! Just read these top stress-busting tips for moving in NJ!
Essential Advice for Moving House in NJ
Schedule! – Lay out a detailed road map for moving day, and the weeks prior, if you can. Organize your big, small, and non-essential tasks, and schedule them in with plenty of time. This'll make sure everything's done, with minimal stress, whilst also leaving extra time for those inevitable last-minute emergencies. 
Cut Costs! – Moving boxes can be costly, so why not source them for free from your local supermarket? Head over and check – they'll often hand over their spares! Friendly for the environment and for your wallet alike. 
Redirect! – Consider

setting up a redirect with the USPS

. You will, of course, still have to change your address on your cards, streaming accounts, invoices, etc… But this will catch any stray pieces that might otherwise fall between the cracks. 

Sort out your energy plans!

 – We cannot stress this enough. The last thing you need is an energy shortfall, unexpected exit fees, or to sign up to a pricey contract in a haze of last-minute panic. Shop around in advance for the best

electricity

and

natural gas

deals, and if possible arrange for them to be in place once you arrive. Plus, make sure you've agreed on an exit plan from your current contract. The good news is, you can get help with all that, along with the best plans that fit your requirements in your new zipcode, right here on NJ Energy Ratings!
Boost Morale! – Sweeten the deal for anyone helping out on moving day. Whether that's a cool lemonade, pizzas, or first look-in on any items you want to get rid of, keeping troop morale high will keep stress low.
Think of the children! – if you've got little'uns, make a game plan in advance. Find age-appropriate tasks or activities to keep them occupied, and set aside a bag of snacks and supplies to help keep their moving day a happy one.
And finally, treat yourself! – Research your new neighborhood in advance to find something you can all look forward to once the boxes are unloaded. Maybe that's a nice takeout, or a local park. It'll spur you on through that afternoon slump.
Best Plan for NJ Home Movers
So best of luck, movers and shakers! And heck, forgive the broken record, but if you're moving in NJ, don't forget your energy plan. Shop in advance to nab the best money-saving deal without any of the stress. So, for all you www.njenergyratings.com customers moving in NJ? Our essential 7 stress-busting tips should make your day a little easier. Good luck!