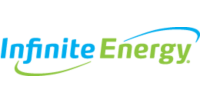 6 mo Fixed
Plan Type:
Fixed Rate
Term Length:
6 months
Early Termination Fee:
$15 per month remaining
Monthly Recurring Charge:
$0.00

6 mo Fixed rates through time
About Infinite Energy
Infinite Energy was founded in Florida in 1994 to service competitive natural gas customers. They new service customers for retail natural gas in Florida, Georgia, New Jersey and New York. In 2010 Infinite Energy started offering retail electricity service to both residential and commercial customers in Texas.
Other Infinite Energy Plans