But How Does Off Shore Wind Farm Transmission Work, Exactly?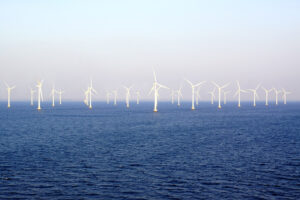 Last time, we covered the 'whats' and the 'whys' of NJ's much-debated off shore wind farm ramp-up. Basically, NJ is cashing in on its offshore wind power potential to meet its ambitious green energy goals by 2035. Recently, Jersey Central Power and Light (JCP&L) has landed a juicy company contract to help get that offshore power onshore. To be sure, it's not easy so let's go surf-side to dig into some of the 'hows'.
How do we Get Wind Power to Shore?
Getting off shore wind power to the mainland has historically been a simple (ish!) matter. First, you need to connect turbines to an offshore platform. Installation companies lay a high voltage cable under the ocean floor to to the turbines. The next step is to send (or transmit) the electricity from the platforms into repurposed substations along the shore. 
That's all well and good, for now. As you can imagine, as more wind turbines go up, there's a high potential for cable spaghetti under the surf. This has already ruffled feathers of fishermen, environmentalists, and just about anyone who doesn't want turbine towers in their green space. Plus, there's only so many substations along the shore that can be repurposed for off shore wind transmission. And doing it isn't cheap!
So with all the turbines proposed along the NJ coastline, developers are seeking a new solution.
How is JCP&L Tackling These Issues?
JCP&L's project, the 'Larrabee Tri-Collector Solution', beat out around 80 other proposals to land the gig. The $504 million project will see all the state's offshore wind 'land' on the mainland at a single connection point at Larrabee, instead of winding through dozens of individual, messy cables.
Plus, when it comes to on-shore transmission lines, JCP&L pledged to use only existing rights of way. This should help JCP&L dodge the kind of hold-ups developers faced in Maine. Here, developers are running green power cables through woodlands, causing plenty of destructive ruckus in the process. 
How Much does Off Shore Wind Farm Transmission Cost Me?
The billion dollar solution is expected to be shared between NJ electric customers – but don't panic! It cashes out at just over a dollar a month. However, it firmly places NJ as a green energy leader: it's the first US state to fully align its offshore wind production plans with its onshore existing electric grid.
That'll give NJ a substantial boost when it comes to scaling up its green power initiatives. Plus, it's also the nation's first state to use a State Agreement Approach – a competitive solicitation process that meant NJ is getting all this at a (relatively speaking!) low price. 
Keep Your Finger on NJ's Wind Power Pulse!
So there's plenty of good news coming from this long-awaited decision. Hopes are that it'll quell some of the worries simmering around NJ's off shore wind farm direction. After all, a less disruptive, relatively low-cost, and environmentally high-reward answer to meeting NJ's lofty green energy goals is a big step in the right direction. But you can keep tabs on the plans of this NJ utility to connect off shore wind farm power to the mainland at www.NJEnergyRatings.com, and decide for yourself!